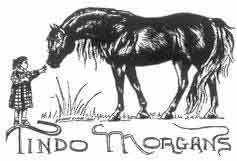 Elaine McIntyre
614 Lower Valley Lane
Cibolo, TX 78108
(210) 659-0747
Nancy Stuhl
690 Lower Valley Lane
Cibolo, Texas 78108
(210) 391-4530
Barbara Friesenhahn
694 Lower Valley Lane
Cibolo, Texas 78108
(210) 394-4264
WELCOME TO
TINDO MORGANS
Justin Morgan had a horse!
And YOU can too!
with a classic Family Morgan
from Tindo Morgans


Reach back in time and grab a piece of our country's heritage-
the Traditional Morgan Horse - the Lippitt morgan!
Don't let your dreams slip away!
We think you'll appreciate, as we do, having a horse with
Brains,
Beauty,
and good behavior.

Tindo Morgans is a family affair. Elaine McIntyre and her two daughters - Barbara Friesenhahn and Nancy Stuhl - have 50 years of experience with horses of different breeds and 29 of those with Morgans. Now, in a new century, we are breeding to preserve the original Morgan type - the Lippitt Morgan! Traditional Morgan Horses are listed on the Livestock Conservancy list as endangered. They are rare and hard to find!
The ladies of Tindo Morgans purchased their first Morgan Horse in 1992. With their combined wealth of knowledge they will help you find your dream horse too!
Classic Family Morgans
that are
Sound ~ Versatile ~ Stylish.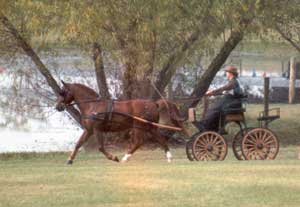 Clarendon of Quietude and Nancy Stuhl
at 2001 Miracle Farm CDE winning Best Cones.
Photo by Bruce Sprecher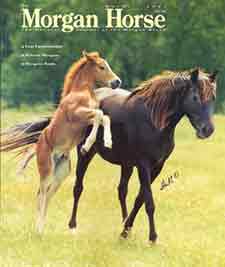 Morannon Manzanita and her 2000 colt, Tindo Jedidiah, by Clarendon of Quietude grace the cover of the March 2001 issue of The Morgan Horse magazine. Photo by Nancy Stuhl.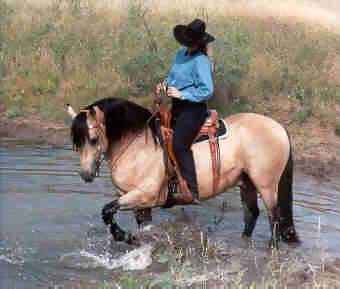 LJ Morning Reveille and Barbara Friesenhahn
Photo by Pam OConnell