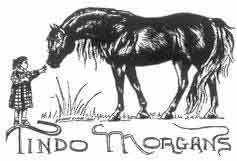 Elaine McIntyre
614 Lower Valley Lane
Cibolo, TX 78108
(210) 659-0747
Nancy Stuhl
690 Lower Valley Lane
Cibolo, Texas 78108
(210) 945-0107
Barbara Friesenhahn
694 Lower Valley Lane
Cibolo, Texas 78108
(210) 394-4264
WELCOME TO
TINDO MORGANS
Tindo Morgans is a family affair - a long-time dream of Elaine McIntyre and her two daughters Barbara Friesenhahn and Nancy Stuhl. After more than 20 years with other breeds, the ladies of Tindo Morgans purchased their first Morgan Horse in 1992.
In 13 years of breeding Morgans the good Lord blessed us with 18 fine foals. We are no longer breeding, but are still very much enjoying and riding the Morgan horses we have left! Look us up and we hope to see you out on the trails!
Who knows...maybe Barbara's daughter, Trish, will continue the Tindo tradition!!!
Classic Family Morgans
that are
Sound ~ Versatile ~ Stylish.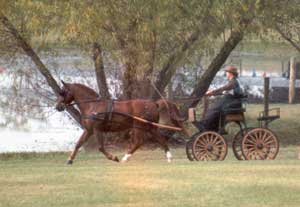 Clarendon of Quietude and Nancy Stuhl
at 2001 Miracle Farm CDE winning Best Cones.
Photo by Bruce Sprecher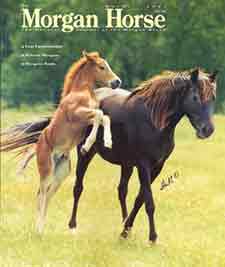 Morannon Manzanita and her 2000 colt, Tindo Jedidiah, by Clarendon of Quietude grace the cover of the March 2001 issue of The Morgan Horse magazine. Photo by Nancy Stuhl.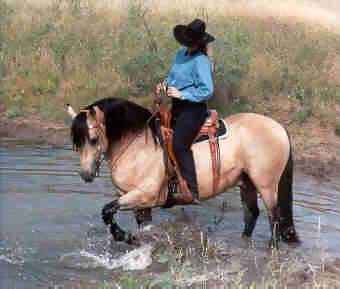 LJ Morning Reveille and Barbara Friesenhahn
Photo by Pam OConnell