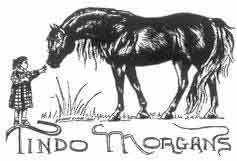 This strikingly handsome buckskin Morgan stallion boasts of finishing 6th in the NATION in the 1995 International Buckskin Horse Association Reining Division. His competition was Quarter Horses. "Rev" has been quite the cover boy, being chosen to grace the cover of the May 1998 issue of The Morgan Horse; add a splash of color to the new American Morgan Horse Association promotional brochure; liven up the month of December in the 1999 AMHA calendar; and do the Morgan world proud in the AMHA advertisement in the October 1998 and 1999 issues of Western Horseman.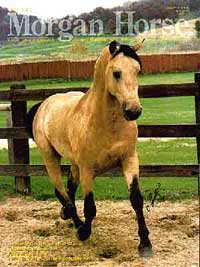 Photo by Pam O'Connell
Rev's pedigree is a traditional Morgan family blend consisting of:
34% Brunk
31% Government
28% Western Working, and
7% Lippitt.
L J Morning Reveille
1990 Buckskin Morgan Stallion
(Sunup Neptune x High Ridge Victoria)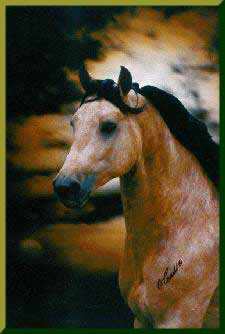 Photo by Pam O'Connell

View Pedigree
In addition to his super type, substantial bone, broad chest and fabulously laid back shoulder coupled with his strong rear and nice length of hip, "Rev" is an exceedingly charismatic and correct gentleman who really puts his stamp on his foals!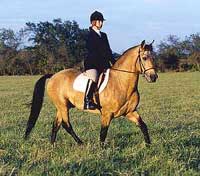 Photo by Dana Parish
With Jubilee King, Go Hawk, Mansfield, Ulysses, Querido, Congo and Sentola behind him, there are a lot of good old horses back there! Reveille traces directly to Buckskin Wheeler Horse #41, a grandson of Justin Morgan himself.